Frequently asked questions
Set Up
How do I adjust the Length Lock on my paddle?
--- ---
Should I wax my kayak?
---
To wax or not to wax? I'm often asked, will waxing my kayak make it faster? There are two schools of thought here. So what´s the best finish for my boat? I'm often asked, will waxing my kayak make it faster? There are two schools of thought here. The first is that waxing will make the hull surface smoother, slipperier and faster. The other is that wax causes water to bead up on the hull and the added surface tension actually makes your boat slower. My experience has been that neither is true, but read on for some practical ideas on how to achieve a good fast surface on the hull of your kayak or canoe. I'm always hearing tales of how a particular surface finish will make a boat faster. I remember way back in the '70's that a chemist told Olympic Canoe finalist Roland Muhlen that covering his canoe with Teflon would create a low friction surface and make his canoe faster. So Roland covered the entire surface of his canoe with Teflon film. While Teflon has amazing low friction properties between solid materials, it's similar in friction to most other materials between solid and liquid (or hull and water). Roland found no speed improvement, so removed it from his hull. But it did have one side benefit - he left in on the right gunwale, which provided an excellent rub strip for J-stroking! Such is the case with most other "low friction" surface treatments that I've seen. When tested, most of them make little or no difference in boat speed. I've only seen two things (so far) that make a significant difference in speed - and both have been banned by the International Canoe Federation for racing. The first is a slimy polymer compound applied to the surface of the boat. This compound dissolves in the water, lowering the viscosity of the water next to the hull and reducing drag. As it dissolves it comes off until it is no longer effective (leaving contaminated water in your wake). The Polish national team used this material many years ago in international sprint competitions. They would warm up in one boat, then have a separate "race boat" with the compound applied to the hull. Just before the start, they'd change to their race boat, back into the starting blocks and sit on the line. During the early stages of the race, the polymer did its magic giving them a boost in speed. By mid race, the polymer was gone and they completed the race with no further advantage. But still - they had a nice boat length or so benefit (so I was told) in the first half. The following year, the ICF banned the substances and started requiring that all race boats be launched from a single dock. That dock has a race official with a sponge and a bucket of water. He sponges some water on the hull of each boat, checking to make sure there are no slimy substances. The other item that really works is a "riblet" material manufactured by 3M. It is an adhesive backed plastic film with very fine grooves machined into it (similar to the grooves in a phonograph record). The size of the grooves is matched to the density of the fluid (water in our case) and the speed of travel so that the grooves dampen the turbulence of the water as the flow detaches from the hull. The grooves need to be carefully aligned so they are parallel with the flow of water over the surface. 3M donated some of this to the US national team in 1986 and we tried it on a few boats. I raced one of the boats in the heats and semifinals of the World Championships in Montreal, winning both preliminary races. However, I was "outed" by a bunch of kids. After each race, the top finishers are required to go to boat control, where your kayak is checked to ensure it meets specifications, including minimum weight. In order to get a consistent weight, the boats are dried with a towel before weighing. The kids drying the boats noticed that my kayak had an odd feel to it as they rubbed the towels over the surface. The towels seemed to "track" lengthwise down the boat, and had a lot of friction (and made a "zip-zip" sound) if wiped quickly across the grooves. Soon there was a whole crowd of onlookers and officials gathered around my boat. It became clear that I would be protested and likely disqualified if I raced that boat in the finals. So I switched to another boat without the riblets for the finals. I finished 5th, just over 2 seconds behind Jeremy West, the winner of the 1000 meter event. If I had raced with the riblet boat, I likely would have won the final (although it would have been close) and then promptly been disqualified. The ICF expressly banned riblet material shortly afterwards. However, I did win the 1000m World Championships the following year by an incredible margin of 3 seconds, paddling the newly designed Ted Van Dusen Eagle. 3M later mentioned in promotional material that they had supplied riblet material to the US Canoe & Kayak team. The East Germans immediately jumped on this, insisting that I must have used the material on my boat in the 1987 World Championships - feeling that was the only way I could have won by such a margin. The following year Norman Bellingham & I raced the same K-1's at a competition in Brandenburg, East Germany. When we crossed the finish line, the boat control tent was swarmed with German officials armed with stereo microscopes checking every square inch of our boats to see why we were paddling so fast. They found nothing, but it made for some good excitement! So where does this leave you? The best advice I can give is that you want the surface of your kayak to be as smooth and clean as possible. While "magic" surface finishes are unlikely to increase your speed, a smooth surface WILL make you faster. The smoother, the better. You don't want any bumps, scratches, or dried on crud disrupting the flow of water over your hull. If your hull is rough or oxidized, start by wet sanding the surface. Use progressively finer and finer grit sandpaper, all the way down to 2000 grit if you can find it. While 600 grit is the finest you're likely to find in most hardware stores, auto body supply shops usually carry the ultra fine grits. Once you've sanded the surface perfectly smooth, use polishing or rubbing compound to make it even smoother. An orbital buffer with a nice soft pad will give you the best finish. Now you're ready to race.
Another question I often hear - rather than polishing to a mirror like finish, wouldn't it be better to end with 400 or 600 grit sandpaper, sanding lengthwise down the boat to create a riblet effect? My answer is NO. It is impossible to sand accurately enough to keep the sanding grooves perfectly straight and parallel down the entire length of your hull. The only way you could accomplish this would be to use a CNC machine or robot to do the final sanding. If you succeeded with a machine to sand that accurately and raced it in an ICF controlled event, the stereo microscopes in boat control would pick this up and disqualify you. It's far better to just make the surface as smooth as possible, without worrying about which way the sanding scratches are oriented. Now you may ask "but what about wax, should I then put wax on my polished hull?" The answer is that it's a matter of personal preference - it probably won't make much difference! One reason it may help, is by keeping your hull cleaner. If you are the type of person that doesn't like to clean and dry your boat, then wax will keep it cleaner (allowing water scum and other grime to slid off more easily), resulting in a faster hull. If you keep your hull perfectly clean after polishing, by rinsing and drying after each practice session until race day (and keeping it out of the sun to avoid oxidation of the surface), then you're probably just as well not waxing it - in case I was wrong and the surface tension caused by wax really does impart 0.001% more drag! By the way, all Epic Kayaks are polished with a high speed buffer before leaving the factory, so they are ready to go when you buy them. However, if your boat is older and you notice the finish is not as smooth or shiny after exposure to sun, saltwater and/or pond scum, then a good cleaning and polishing (with or without wax) will put some more speed back into your boat! So go ahead and wax your boat if you are so inclined. It will keep your boat cleaner and help protect the surface from UV light (you can also products such as 303 Protectant that will preserve the finish of your boat). While the wax may not give a noticeable drag reduction compared to an otherwise clean, smooth hull, it just might give you a psychological boost knowing that you have the shiniest hull in the race!
---
How do I install my SmartTrack rudder?
--- ---
How do I install my surfski rudder?
--- ---
How do I center my surfski rudder?
--- ---
How do I adjust my surfski footbrace?
--- ---
How do I set up my new surfski?
---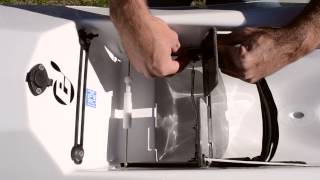 ---
How do I change my surfski rudder line?
---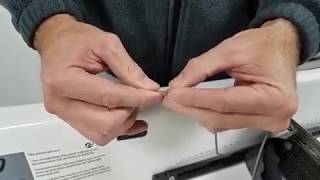 ---
What length rudder shaft does my surfski use?
---
---
Can I download a user guide?
---
Yes, please click the USER GUIDE link below to download the relevant user guide PDF for your surfski or kayak. USER GUIDES
---
---
Reviews
Where can I get more information on specific products?
---
There is product information on our product pages, on our articles page and videos on our Youtube and Vimeo pages.
---
Where can I try Epic products?
---
Some Epic dealers are also test centers, with a large range of Epic products for you to try. You can also reach out to any of our dealers on the dealer locator or an EPIC EXPERT for advice on EPIC products, to purchase an Epic product or to arrange a test paddle: Epic Test Centers include: Epic Kayaks East Coast Warehouse, Erwin, Tennessee - info@epickayaks.com Kenny Howell, San Francisco, California, USA - kenny.howell@epickayaks.com Deep Cove Outdoors, Vancouver, Canada - bob@deepcovekayak.com, deepcovekayak.com Naples Outfitters, Naples, Florida - naplesoutfitters@gmail.com, naplesoutfittersflorida.com Ladsurfski, Kansas/Missouri area - ronladzinski@gmail.com, ladsurfski.com (no touring models available for demo) Kayak Learning Center, Beverly MA - kaylngctr@comcast.net Tres Rios, Derry, PA - robhainan@yahoo.com Paddle Dynamics, Irma, WI -paddledynamics@gmail.com Epic Experts - USA: Timothy Dwyer, Southern New England, USA - timothydwyer5@gmail.com Brian Blankinship, Northern Virginia, Washington DC, Maryland, USA - Brian@BayKayaking.com Darren Crozier, Pennsylvania & Maryland, USA - dcrozier21@gmail.com Zsolt Szadovski, Hawaii, USA - szado2@yahoo.com Eric Mims, South Carolina, USA - eric.mims@epickayaks.com Matt Skeels, Northern NY and Vermont - adkkayak@gmail.com Nicholas Cryder, Bellingham, WA, USA - nicholas.cryder@gmail.com Jim Smith, North Carolina, USA - bldgsmith@gmail.com Kenny Howell, San Francisco, California, USA - kenny.howell@epickayaks.com Rich Long, Dana Point Harbor, California, USA - epicdanapoint@gmail.com Chris Barlow, San Diego, California, USA - kayakfast@sbcglobal.net Mike Long, Santa Barbara, California, USA - epickayaks805@gmail.com Jeremy Vore, Michigan, USA - jeremy@theartofpaddling.com Craig Impens, New Jersey, USA - craigimpens@yahoo.com Jason and Kasumi Montelongo, Redding, California, USA - jkmepic@outlook.com
---
V8 Review - Jim Smith
---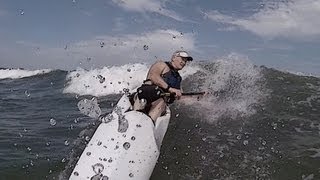 ---
V7 Review - Adventure Kayak Magazine
---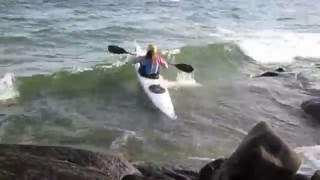 ---
V5 Review - Jim Smith
---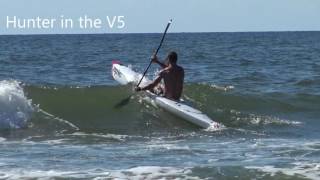 ---
V6 Review - Kenny Howell
---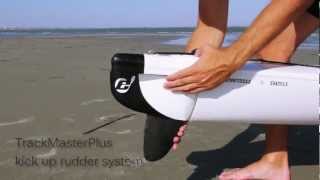 I recently put in some miles on the Epic V6 in a wide range of conditions, including a calm protected bay, a tide rip on San Francisco Bay, a downwind run in a gale, and a surf session at my local point break in Half Moon Bay, California. Here are my impressions of this innovative design… Give someone a V6, and whether novice or expert sea kayaker, you will witness a euphoric glow envelop the paddler as he or she glides away into kayak nirvana. I have observed this phenomenon many and must attribute it to the boat design rather than any supernatural influence. Once, on a warm midsummer afternoon at a sylvan mountain lake, I insisted that a friend who claims NOT to like kayaking (he prefers to SUP) try the boat. He paddled and was gone so long I thought he was lost. He lost himself in V6 bliss. Wherever I go with the V6, curious paddlers notice the sleek lines and outfitting. They want to know, "Is it a , or a kayak?" Put simply, the V6 is a hybrid design: a fast touring kayak with a cockpit. It combines the advantages of a sea kayak with the benefits of the modern, ergonomic open cockpit. The hull dimensions of 16' x 23" are virtually the same as Epic's 16X sea kayak (a closed-deck design). Fiberglass sit-on-top kayaks have been around in various forms for decades, but the concept has yet to capture the imagination of the closed-deck inclined sea kayaking diaspora. This may be due to the fact that most sit-on-tops on the market today are heavy plastic beasts-of-burden, often with strangely misshapen and warped hulls; sluggish and cumbersome, plastic sit-on-tops are perhaps good enough for the daily abuse of a typical kayak rental operation, but the paddling experience is not exactly inspirational. I believe one should feel inspired by their . I want a light, responsive boat that is a joy to paddle, and I want to enjoy every moment of my time on the water. I have many new paddlers struggle and become frustrated by a kayak that is too heavy, , and too hard to maneuver. Some paddlers just don't realize they are working too hard with their "traditional" sea kayak, when they could be enjoying the benefits of a modern design like the V6. When designing the V6, Epic took a good idea and made it better. In their own words, "Epic kayak hull designs are based on data from naval tow tank tests, complex drag calculations, video analysis and years of experience. We use high tech lightweight materials. All our kayaks are designed CAD (Computer-aided design)". The key hull design concepts are full waterline, minimal rocker, plumb bow, soft chines, and integral rudder. The result is an extremely efficient touring machine that gives an exciting, pleasurable ride. As a bonus, for overnight trips, the boat converts to a luxury yacht, complete with a wine cellar! (Read on, wine connoisseurs!) During a recent November trip in the middle of a northern California "Indian Summer" heat wave, I packed the V6 with enough gear for 3 days to explore the bucolic Tomales Bay in the Point Reyes National Seashore. Tomales Bay is a popular destination for sea kayak camping and day tripping 25 miles north of San Francisco. Surrounded by rural landscapes, happy dairy cows, and a bit of wilderness within the boundaries of the National Seashore, the bay is 9 miles long and about two miles across at it's widest. Sheltered from the full force of the ocean swells and breezes, and rich with marine life, it is the perfect calm-water kayak camping locale. I decided to take the V6 as my "expedition" kayak to see how it handled the . My boat of choice for previous camping trips was the Epic 18X, but I wanted to experience the freedom of the V6 open cockpit. I don't travel lightly when camping, and it would be interesting to see how all my precious possessions fit in a boat 2' shorter than the 18X. Packing turned out to be easier than expected, although it required some clever stowage techniques. A quick survey of equipment includes a 3-man tent (AKA the Himalayan Hotel), sleeping bag, air mattress, fresh food and water for 3 days, camp stove and fuel, pots and pans (including a cast iron skillet, critical for frying eggs), camp clothes, hiking boots, toiletries, books, magazines, binoculars, and 1 litre of red wine...The menu included fresh vegetables, smoked salmon, cheeses, stuffed croissants, and other decadent delights - no freeze-dried backpacker food would touch my lips! Because no wood collecting for campfires is allowed in the Park, I hauled a 15 lb. bag of store-bought kindling on the rear deck, lashed so it formed a perfect headrest while laying back in the seat. Perimeter deck lines are a requisite safety feature on expedition-rigged sea kayaks, and the V6 deck lines provide convenient lashing points for a spare paddle and dry bags. The hatch covers seal with pressure by turning four simple yet elegant latches that lock securely in place. I had been skeptical about the reliability of these hatches until finding they survived a good thrashing in the surf, keeping the cargo hold bone dry. Stout handles recessed into each side of the seat allow for easy solo carrying - that when the boat isn't loaded like mine with the loot of King Tutankhamun's tomb. When carrying the fully loaded V6 to the water, it took two strong backs lifting from the sturdy, ergonomic, bow and stern handles. The combined weight of cargo and paddler were close to Epic's published capacity of 335 lbs (152 kgs); however, the trim of the boat stayed well above the gunwales, despite my attempts to sink it by overloading with gourmet rations. I could have easily carried several more of wine and remained afloat. I was used to packing a kayak with food and water for 10 days during numerous expeditions to Mexico's Sea of Cortez. A loaded boat feels very different from an empty one. Nevertheless, once you get a freighter moving, she likes to keep moving! It wasn't difficult to maintain 4-5 mph with the V6 a 10-15 knot breeze. Choppy water made the boat bounce around like a rocking horse with stiff springs, but the "ballast" made it feel extremely stable. The group of novice paddlers I led on Tomales Bay managed to cover the 4 miles to our campsite in 90 minutes, including a leisurely rest stop on shore. In breezy conditions, for total comfort and I had the luxury of a Goretex drysuit while paddling the V6. Northern California's coast is not as balmy as the beaches of Bay Watch, and every NorCal kayaker must dress for the possibility of hypothermia regardless of cockpit style. Incredibly, during that spectacular autumn weekend on Tomales Bay, the weather remained warm and calm enough that I could paddle the V6 without the drysuit some of the time, wearing only board shorts, a rash top, and neoprene booties to keep the toes warm. How glorious it was to work on tanning the legs while kayaking! Not many kayakers have tan legs, after all. If the wind kicked up, I always had a light splash jacket handy to take the chill off. How perfect the V6 would have been for those journeys on the Sea of Cortez, where a spray skirt is about as welcome as a goose down parka in Acapulco. Water occasionally sloshed into the footwell and seat, typical for an open cockpit in choppy conditions. The V6 includes the same innovative bailer mechanism as the Epic models, which allows a dry footwell in calm seas; you can open and close the drain in small increments as needed with a little push or pull the heel. This is a wonderful feature for cold water regions, but the retractable mechanism also gives the hull a more efficient glide - in theory - when flush against the hull; however, the efficiency factor was undetectable in the loaded boat. I kept the bailer partly open 90% of the time to drain the "bilge water", and closed it once the footwell drained dry as we paddled in and out of small chop throughout the journey. On our the second day of the trip, we left base camp and paddled light kayaks to explore the far corners of Tomales Bay. It was child's play to load day gear in the two big hatches, fore aft. I packed lunch, plus several liters of water and extra clothing and emergency supplies This cargo weighed roughly 30 lbs, but the V6 felt like a different boat with the lighter load. It transformed itself from a luxury liner into a nimble and quick craft that one expects of a or fast touring kayak. It takes only a short while to get used to the "lively" feel of the V6, as the 23" beam is about the same as a typical sea kayak. The secondary stability is excellent, and you can edge the boat for sweep turns if desired. The rudder is an ingenious kick up : paddle over a rock or shallow area and it retracts automatically, then springs down as you pass into deeper water. You can also haul up the rudder part way, or fully retract it and cleat it easily with the haul line; when up-hauled, the rudder locks in the neutral position, and the toe pedals stiffen in place. I am 5'9", and my leg inseam measurement is 30", and the foot brace adjustment was near its short end. A shorter paddler might need to have the foot brace customized to reach the proper adjustment. I experimented briefly with paddling while the retracted; the boat has enough to give it decent forward tracking without the rudder. So, why use a rudder at all? I asked Epic co-founder Greg Barton this burning question, and he explained with the precision of a mechanical engineer who happened to win two Olympic gold medals in kayaking one morning in 1988: "A rudder adds roughly 2% drag to a boat. With a corrective you lose more than 50% of your forward power. Even a minor corrective stroke loses 20% of the forward power. It's more efficient to accept the 2% rudder drag and then be able to apply 100% of your stroke power in an efficient forward direction. Even Olympic sprint racers use rudders. These events are in a straight line on calm water - so you wouldn't think a rudder would be necessary. But over the past 50 years, 100% of Olympic sprint kayak medals have been won with boats utilizing rudders. Where races are often won or lost by 1/100's of a second, they have figured out the most efficient way to paddle (with a rudder)." When you paddle the V6, the benefits of the cockpit become ; the ergonomic configuration aids the paddler in generating a more comfortable, efficient, enjoyable forward stroke. I made a list of the things that I love about the V6 and its benefits: You can generate tremendous power from "leg drive" with the footboard. Posture is better when the legs and knees are together, rather than splayed outward as in a closed cockpit. Core strength is enhanced in this seating position (knees and legs together). The cut-away shape of the front deck allows a very close catch for the forward stroke, critical to technique. No sprayskirt needed; one less piece of equipment to purchase and worry about! No cockpit to flood with water, reducing a major safety hazard in the event of and wet-exit in a decked boat. The self-bailing open boat is inherently a very safe design - assuming course, the paddler can remount his craft. A stable sit-on-top model like the V6 is easy to remount side-saddle style; like any remount or rescue technique, it must be practiced in the conditions one is likely to encounter. Launching and landing easier and faster with a sit-on-top than a decked boat. I would rather have an open boat for launching through , allowing a quick and easy "water start", avoiding the potential awkwardness of a beach launch. When "rafted" with other kayaks, or assisting another boater, you can easily put one or both legs over the side of the boat for added stability, turn around in the seat, and even hop off the boat and hop back in if needed in a jiffy. For kayak fishing, an open cockpit is very popular for the convenience and safety factors. There will always be a time and place for a closed-deck boat. I grew up paddling decked and learned the Eskimo roll (with or without a paddle when necessary!). I have run dozens of whitewater and keep a surf kayak handy for those days when nothing else will do in the waves. If you paddle in an environment where rolling is essential - such as whitewater, or ocean rock gardens - then you can make a strong case for decked boats; however, sit-on-top enthusiasts also exist in those environments. If you don't have a reliable Eskimo roll, then an open cockpit should strongly be considered for use in open water; it will also save you hours and hours of laborious rescue since re-entering a swamped sea kayak in rough water can be a tricky business. And yet, if you care about performance and hull speed, sit-on-top options are limited. A setup like the V6 offers a very appealing solution. Undoubtedly, the V6 performance in the surf zone could be improved with the addition of thigh straps, allowing the boater to lean more aggressively when broached in a breaking wave, and to stay connected to the seat in the turbulent water. A custom quick-release , like the types used for , could conceivably be rigged to the V6 if the paddler desired to roll it. All things considered, after 10 years of paddling on the ocean, the verdict is in: I am a reformed deck boater, and love the freedom of the open cockpit! Late in the afternoon, we paddled to a remote trailhead and hiked out to Tomales Point to observe herds of tule elk foraging in the wind-lashed coastal scrub. From the point, we gained views of wild and exposed Pacific beaches pounded by surf, and romantic, rugged sea stacks shimmering offshore in the sea mist. The Point Reyes region is referred to by poets and dreamers as the "Island In Time". Thanks to the infamous San Andreas fault, which runs the length of Tomales Bay, the whole land mass to the west is shearing off from the mainland of California on a separate tectonic plate, and it will eventually become an island in the sea, moving slowly but inexorably northwestward towards Alaska, riding atop the Pacific Rim "ring of fire." In California, the earth itself is restless, much like its citizens, forever seeking new horizons… After the invigorating nature hike, a sea breeze greeted us back at our kayaks on Tomales Bay. The group enjoyed a thrilling downwind ride for several miles to camp, staying close to shore for a margin of safety and protection. While paddling slowly, the V6 occasionally broached in the wind waves as the rudder disengaged from the water. I attribute this to the fact that I wasn't being aggressive, and noticed that the bow turned slightly into the wind like any kayak; but, this was easily corrected by paddling forward normally, and letting the rudder do its job. "Weathercocking", the bane of many kayaks, is definitely not an issue for the V6 as long as the rudder is deployed. As we approached our camp off Marshall Beach, 3' surf rolled along in perfect , like lines of corduroy on the water. I waited until the last paddler had rounded the point and turned into the shelter of our little cove, then I paddled back for a few minutes to get one more downwind rush in the V6. I turned the boat around and with a couple good strokes, she bolted like a rental horse headed back to the barn. Suddenly, it felt like I was on a again, linking waves, surfing a glassy roller for a hundred meters without taking a stroke, and working the rudder gently to keep the boat in the sweet spot. It was shocking to discover the V6 surfed so well. I knew it was fast for a 16' kayak, but it turned out to be one hot tamale! Whooping and hollering, I waved to the campers on shore to show off. If you have never seen a kayak fly across the water, you wouldn't believe it could be done. Mission accomplished, I headed to the beach for another fine night of seaside camping. We had fresh oysters to eat around the campfire, and red wine to sip. Tomorrow, the V6 would transform itself back into a touring machine, and take me safely home with style and grace. EPIC V6 SPECIFICATIONS Length: 16' 00" (4.88 m) Width: 23" (58.4 cm) Depth: 11.5" (29.2 cm) Capacity: 335 lbs (152 kg) Ultra & Performance construction available
---
---
Repair
Gel Coat & Paint color codes
---
Red RAL 3020
White RAL 9207 Customized, (Closest standard RAL# is 9010)
Black RAL 9005
Blue RAL 5002
Yellow RAL 1018
---
How do I change my rudder line?
---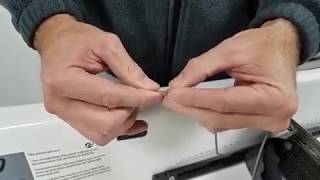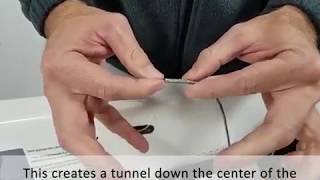 Detailed explanation on how to change your rudder line. Quick explanation on how to change your rudder line.
---
---
Design Features
What is the difference in the construction types?
---
Weight Matters
Kayak weight has a significant effect on a paddler's fun and independence. Starting with the initial loading of the boat onto a vehicle, then unloading and carrying to and from the water - a heavy kayak can quickly make kayaking a tedious and even painful process. A lightweight kayak, on the other hand, makes the whole experience easier and much more enjoyable. Transporting your boat is no longer a dreaded chore or a team effort!
Once on the water a lightweight kayak feels more nimble and responsive and offers better acceleration. A light Epic kayak will make you want to get back on the water as soon as you can!
Epic Kayaks is committed to the development of innovative construction methods and materials. Other kayak manufacturers produce "lightweight" versions of their models but don't be fooled! Many manufacturers' published weights do not include all outfitting and actual weights are often significantly heavier than advertised. Epic's advertised weights are for fully-outfitted kayaks. We stand by our stated weights and guarantee them to be accurate within 10% at the time of purchase.
Epic uses high-tech lightweight materials to build boats that are strong, durable and ultimately far lighter than the competition. Epic is in a class by itself when it comes to weight and value.
Construction Options
Club (not available in some regions)
The Club layup is the most economical construction option we offer. It is also our heaviest construction, yet comparable to most competitors' standard boats.
- Fiberglass on a core mat with carbon fiber reinforcement
- Vacuum-bagged with polyester resin
- Available with GPX and some surfskis
- Club construction boats are white with blue accents
Performance
The Performance construction is a composite hybrid. We consider it to be the best value in the industry. Epic Performance kayaks are significantly lighter than the competition's equivalent products, yet are offered at a comparable price point.
- Foam core
- Composite hybrid of fiberglass, carbon fiber, and Kevlar
- Vacuum-infused, heat-cured epoxy
- Available on most kayaks and surfskis (sea kayaks and surf skis all have white deck and hull)
- Performance construction boats have black accents on bow and stern
Ultra
The Ultra construction is very light and popular with the fitness and racing paddlers. It is light, stiff, and extremely strong in the water. Our Ultra disclaimer states that while stronger in the water than the Value and Performance lay-ups, the Ultra is more susceptible to impact damage and requires more care when handling.
- Nomex honeycomb core
- A Composite hybrid of woven Kevlar fabric, carbon fiber and fiberglass
- Vacuum-bagged, heat-cured epoxy
- Exact quantities and position of each material is subject to change as we strive for the
perfect combination of stiffness, weight and resiliance.
- Available on all kayaks and surfskis (white decks and hulls only)
- Ultra construction boats have red accents on bow and stern
Elite
The Elite construction is extremely light and stiff, a step up from the Ultra lay-up, but with similar durability. The Elite layup uses a thin but durable black gelcoat as a finish to help keep the weight at a minimum. Slight cosmetic imperfections should therefore be expected in the finish of the Elite layup boats.
- Nomex honeycomb core
- Complete 3k carbon fiber outer layer
- Kevlar inner layer
- High temperature cure, vacuum bagged
- Available on select surf skis only
- Grey gelcoat with white tips and cockpit
---
What are Epic Kayaks main features?
---
At Epic kayaks we've taken the principles behind high-performance racing equipment, combined them with our knowledge of racing kayaks, and adapted them to make kayaks that are efficient and stable. No matter what type of paddling you do, you'll do it better, and with less effort, using an Epic kayak! 1. Full Waterline Length. Nearly the full length of an Epic kayak is in the water. Our experience and testing have shown that long overhanging bows offer no benefit. A full-length waterline provides maximum efficiency going forward, and creates more volume in the bow for better rough water performance. 2. Swede Form Shape. A swede form kayak is wider behind the seat for better stability, and narrower in the bow for a smooth entry into the water and a close efficient stroke. 3.Advanced Rocker Profile. The rocker in Epic kayaks have been optimized to provide superb handling in all water conditions. 4. Front Deck Cutaways. Epic's cutaway front deck design allows a close, efficient catch at the start of every stroke. 5. Integrated Thigh Braces. The thigh braces on an Epic touring kayak are molded under the deck of the cockpit. Paddlers can lock their knees under the thigh braces for rough water performance, or keep their knees centered in the middle of the cockpit to incorporate leg movement for more efficiency and power. . 6. Adjustable Seats. Epic kayak touring kayak seats are adjustable and slide forward and back on an integrated cockpit rail. Paddlers can easily fine tune their cockpit position for maximum efficiency and personal comfort. 7. Lightweight, High Tech Materials. Epic kayaks are made with strong, durable, lightweight materials including carbon fiber, Kevlar, fiberglass and a specially formulated epoxy resin which is stronger and tougher than polyester or vinyl ester resin. Epic's sandwich core construction process with these materials ensures our kayaks are extremely stiff, strong, durable and light. 8. Vacuum Infusion with Heat Cure. Epoxy resin is infused into our kayaks under full vacuum. This eliminates voids and produces Epic's signature high strength and lightweight standards. After infusion, our boats are post-cured at elevated temperatures to create the strongest and lightest kayaks on the market.
---
What are Epic Surfskis main design features?
---
Epic Surfskis are designed and assembled to precise specifications. The DNA of each Epic craft comes from a design and manufacturing philosophy that they must perform at optimal efficiency. What does that mean? It means every component on the surfski must perform perfectly and be built to strict standards. It means we go to great lengths to ensure that each Epic is safe, strong, stiff and durable. Epic surfskis are designed in the USA by Epic founder and world renowned Sprint Kayaker, Greg Barton. He won 2 Olympic Gold medals in sprint kayaking, and numerous awards in other disciplines – marathon, outrigger, and surfski. Greg received a BSE degree (Summa Cum Laude) in mechanical engineering in 1983 from the University of Michigan and combines his understanding of competing and winning at the highest level of paddlesports to design the best surfskis on the water. His design philosophy is that every Epic customer should benefit from excellent, performance driven designs that allow them to paddle to the best of their ability, and have fun on the water. Epic Surfski design features: 1. CAD design. Epic Surfskis are designed using CAD software and multiple drag simulation methods are combined with years of real world testing and experience before prototypes are finalized and tested. Our plugs are then CNC cut to ensure perfect transfer of tested design to manufactured boat. 2. Handling. Epic optimizes each ski design for its intended use – taking into account the skill of the paddler and conditions they are likely to encounter. We balance low drag hulls with desired stability, rocker profile and handling characteristics. Whether you're a beginner wanting to have fun, an intermediate paddler racing on smaller bodies of water or an expert wanting great surfability for full ocean downwind conditions, Epic has the perfect ski for you! 3. Front Deck Cutaways. Epic's signature cutaway front deck designs allow a close, efficient catch at the start of every stroke. 4. Stringer. Epic surfskis use honeycomb or closed cell foam stringers to increase the boat's strength and rigidity. These materials do not soak up water, unlike skis built with EPS foam which will gradually increase in weight as the stringer absorbs water. . 5. Rudder Box. Epic goes to great lengths to add 7 extra layers of material to the rudder area of our surfskis. This allows an Epic to withstand heavier knocks than the competition in this area, without damage to the surfski. Without extra strength in this key area, the rudder is prone to punching through the boat when hitting an object in the water or dropping your surfski by mistake. 6. Lightweight, High Quality Materials. Composite passenger jets use the highest grade of material they can get. Composite Epic surfskis are also made with high grade, strong, durable, lightweight materials including carbon fiber, kevlar, fiberglass and a specially formulated epoxy resin which is stronger and tougher than polyester or vinyl ester resin. Fiberglass has many different grades. Our fiberglass is a fine woven mat, which has much stronger properties than cheaper, chop strand fiberglass. Every Epic surfski layup contains carbon fiber. Carbon fiber is the stiffest & most expensive material in surfski construction. A stiff surfski performs much better than a flexible surfski due to less energy loss.
The Elite construction uses carbon in the entire boat.
The Ultra layup uses carbon & kevlar to make a light, yet very strong layup.
The Performance grade layup uses carbon and fiberglass and is our strongest layup.
Epic's sandwich core construction process with these materials ensures our craft are extremely stiff, strong, durable and light.

7. Heat Cure

. All Epic surfskis are cured (baked in an oven) at elevated temperatures under vacuum to create the strongest, lightest and stiffest surfskis on the market. This adds cost to the manufacturing process, but ensures the finest quality and stiffness.

8. Epic patented bailer

. Our Patented Epic Bailer drains up to 6 times faster than previous metal bailers or venturie systems. It also allows multiple positions that can be adjusted to suit conditions, or closed off completely for a more dry cockpit and no drag paddling in calmer conditions.

9. Comfort.

We are well known in the industry for our comfortable cockpits and surfski seating positions. A surfski cockpit design is a science and every Epic surfski is carefully designed for optimal comfort. Greg has logged well over 10,000 hours sitting in kayak seats and cockpits of various configurations. What started as modifications to his Olympic sprint kayak seats and foot braces to make them more comfortable and responsive has continued in optimizing today's Epic cockpits for maximum comfort and performance.

10. Ergonomic Handles.

Many of the wider Epic surfski designs include ergonomic carry handles on the bow, stern and on each side. This makes our surfskis easier to handle out of the water and when remounting in deep water.

11. Adjustable footboard.

Our footboards are fully adjustable to fit a wide range of paddlers. The adjustment process takes a few seconds and no tools are needed. Our rudder lines automatically adjust during any footboard adjustment.

12. Epic craftsmen & craftswomen

. The Epic manufacturing facility is headed up by master surfski builder, Tyrell Impson who leads a team of highly skilled staff. Many of our manufacturing staff started off their careers as carpenters. Our factory have their own surfski race team, consisting of 14 paddlers who travel and race the surfskis they build. Having our staff understand legendary performance paddling is a key component of our brand. When you choose a surfski, ask the questions! Who designed the surfski & its components, what is their experience? What materials are used under the skin? How are the surfskis manufactured? Do your research well, have confidence in your choice and see you on the water.
---
---
Paddler Fit
Will I fit a specific kayak?
---
Leg Length and Fit All of Epic surfskis and sea kayaks are adjustable to accomodate a large range of paddlers, but there will always be those few who fall outside of the range. There are many factors that must be taken into account when determining a paddler's fit in a specific boat. We provide an estimated range of paddler heights with each model to give our customers an idea of who will fit in that particular boat. As you approach the short or tall end of the Leg length specs, it is important to consider all of the following to help determine whether you will fit: At any given height, a person can have drastically different leg lengths. ex: A paddler might be on the short end of the height chart, but have very long legs for their height, and therefore fit in more models. The paddler's preference for knee height will also have an affect. ex: A very tall paddler with long legs who prefers very little knee height will possibly limit their fitting ito certain models. Wearing thick water shoes will increase your leg length, as will adding footpads to the footboard and pedals. This can help give extra reach for shorter paddlers, but could hinder the extremely tall. The size of your rear end can also make a noticeable difference. It can shift you forward in the seat, helping you reach the pedals easier. If you fall comfortably within the listed height range and do not think any of the above list applies to you, you can reasonably assume you fit in a particular boat. As you get closer to the extremes, we highly recommend having a demo in the boat to know for certain. Contact your nearest Epic Kayaks Dealer or Agent to arrange a demo.
---
---
Warranty
How do I file a warranty claim?
---
Warranty Terms Epic Kayaks warrants all products to be free from defects in materials and workmanship for one year from the date of purchase. This warranty applies to the original owner for purchases made directly from Epic Kayaks or an authorized Epic dealer and is non‐transferable. If damage is due to a material or manufacturing defect, Epic will repair or replace the kayak free of charge. Epic reserves the right to determine if a product will be covered under warranty. Normal wear, cosmetic blemishes, and damage due to improper use, modification, negligence or transport are not covered under warranty. Surf damage to surf skis or wing paddles is not considered a manufacturing defect. Demo or used equipment is not covered under warranty. Your original invoice is your proof of purchase. Returns (Warranty/Repairs) To pursue a customer warranty claim, contact your local dealer. We will work with you through your local dealer. If this process does not meet your expectations, you are welcome to contact Epic Kayaks directly. Follow the procedures below: Contact Epic – we need the kayak serial number, model, color and location where purchased. You will be assigned a Return Authorization number (RA#) for tracking your claim. Failure to follow this procedure will result in a 10% restocking fee Epic will provide a correct return address (we have several locations) Your shipment should include your RA#, name, address and clear contact information, along with the reason for the return You are responsible for the shipping cost to Epic, however, Epic will pay return shipping costs Please send an email to info@epickayaks.com with any questions, NEVER send product to Epic without an RA#
---
---
Pro Deals
Can I get a pro or team deal?
---
Pro Purchase & Team Sales Epic Kayaks inc. supports paddling and paddlesports through pro-deals for leading industry professionals and elite athletes. To be considered for a pro-deal please email: info@epickayaks.com. You will be asked to fill out an application form. We also work with the ACA to offer special discounts to certified ACA Instructors. Please email kenny.howell@epickayaks.com for more information.
ACA Instructor Pro Deal Application
---
---
Privacy & Terms
What are my terms of use, privacy and security?
---
Security, Privacy & Terms Privacy matters. Epickayaks.com recognizes the importance of our customers' privacy, and takes a number of steps to protect that privacy. The following discloses the information gathering and dissemination practices for our Web site. Epickayaks.com Privacy Policy Epic Kayaks Inc., its parent, subsidiaries and affiliates (collectively, "Epic Kayaks"), believes in protecting the privacy of its customers. The purpose of this privacy policy is to describe the kinds of information that we may gather about you; how we may use that information; how we protect it; when we may disclose it; and the choices you have regarding your information. By visiting the Site, you are consenting to the practices described in the current version of this privacy policy. If you have visited the Site previously, please review the privacy policy again to be sure you are familiar with its present terms. Recent changes to the privacy policy can be found below under Privacy Policy Changes. If you have any questions or concerns about the privacy or security of your information, you may contact us. Non-Personal Information that We Collect We automatically collect non-personally identifiable information from you when you visit our Site. This information includes your Internet Protocol ("IP") address, which is the number automatically assigned to your computer whenever you access the Internet. This number does not identify your name, email address, or other personal information. We use your IP address to help diagnose problems with our server and to administer our Site. We also collect non-personally identifiable information through the use of cookies. A cookie is an alphanumeric file that a Web site puts on your hard drive so that it can remember something about you while you are using the Site or when you return to the Site. Cookies make it easier for you to use our Site. We use a cookie in order to retain the contents in your shopping cart while you are checking out other areas on our Site. When you are done, the products in your cart are still there for you to buy. We also use cookies to gather certain aggregate usage information about the numbers and frequency of visitors to our Site and individual pages of our Site. This data helps us improve the appearance and usability of the Site. These cookies do not collect personally identifiable information nor do we combine information collected through these cookies with other personally identifiable information about you. Epic Kayaks, its advertisers and ad servers may also use cookies, as well as files called "Web beacons" or "clear gifs" to determine on an anonymous basis which advertisements and promotions our Site users have seen and how users responded to them. However, we do not use these technologies to collect personally identifiable information. You can block cookies, web beacons and clear gifs by changing the settings of your browser (e.g., Internet Explorer, Firefox, or Chrome). Note, however, in some circumstances blocking all cookies may affect the functionality of our website. Personal Information that We Collect We may collect your personally identifiable information, such as your name, shipping address, billing address, email address, phone number and credit card number, in the course of processing your order, or when we otherwise communicate with you. For example, through the order forms on our Site, we collect personally identifiable information necessary for shipping products that you purchase. We also may collect your financial information (like your credit card number and billing address) and your contact information (like your email address, phone number and shipping address). When you provide Epic Kayaks with personal information through this website, that information may be sent electronically to servers outside the country where you originally entered the information, such as to the United States. By providing personal information to us, you consent to have this information be used, stored, and processed outside the country where you entered that information and in the United States. Please be assured that whenever Epic Kayaks handles personal information, regardless of where this occurs, Epic Kayaks will use and protect that personal information in accordance with its Privacy Policy. Information from Other Sources Information that you give us may be combined with other personally identifiable information (such as order history and demographic information) from third-party sources to make our marketing efforts more efficient. Examples of other information we receive from third-party sources include updated delivery and address information, which we use to correct our records and deliver your next purchase or catalog more easily. Uses of your Information Financial information that is collected is used to bill you for products that you request. Contact information from the order form is used to send orders and information about our company to you. You may opt-out of receiving future mailings; see "How to remove your name from our mailing, sharing or email list" below. If you register for email or if you provide your email address to us, we will send you emails. These emails will inform you of our launch of new products, of special sales, of promotional offers from our partners, of environmental issues we think are important, and of potential employment opportunities with Epic Kayaks that you may find of interest, and of other events taking place in our stores near you. If you currently receive our emails and do not wish to continue receiving them, please see the "How to remove your name from our mailing, sharing or email list" section below. We use your shipping address to ship your products to you and to send catalogues and other mailings to you. We use your billing address, if different than your shipping address, to verify your billing information. We never share our customer names or addresses, e-mail addresses or other personally identifiable information, other than to the extent described in the "Consenting to Uses of Your Information" section below. If you do not wish to receive catalogues or other mailings from us, please see the "How to remove your name from our mailing, sharing or email list" section below. Disclosures of Your Information We do not disclose your personal information to other companies, persons or agencies, except for the purposes described below: Service Providers: We employ other companies and individuals to perform certain services and functions on our behalf. Examples include operating and maintaining our Site, taking orders, delivering packages, sending postal mail and email, removing repetitive information from customer lists, analyzing data, providing marketing consultation and assistance, distributing customer surveys, processing credit card payments, and providing customer service. These companies have access to personal information needed to perform their services or functions, but may not use it for other purposes. Affiliates and Partners: Sometimes we send offers to selected groups of Epic Kayaks customers on behalf of our non-affiliated partners such as Vertical Rsponse for our Newsletter and Facebook for product competitions, amongst others. For Your Protection and Ours: We may release personally identifiable information when we believe it is appropriate to comply with applicable law regulation, legal process, or governmental request; enforce or apply our Terms of Use and other agreements; or protect the rights, property, or safety of Epic Kayaks, our customers, our employees or others. Business Transfers: As we continue to develop our business, we might sell or buy subsidiaries or business units. In such transactions, customer information generally is one of the transferred business assets but remains subject to the promises made in any pre-existing privacy policy (unless, of course, the customer consents otherwise). Also, in the unlikely event that Epic Kayaks or substantially all of its assets are acquired, customer information will of course be one of the transferred assets. Sharing: We may share your name and postal address with other reputable companies so they may send you catalogs about products of potential interest. We do not share credit card information or email address with these third parties. If you prefer that we not share your name and postal address with other companies, please see "How to remove your name from our mailing, sharing or email list" section below. With Your Consent: Other than as set out above, you will receive notice when information about you might go to third parties, and you will have the opportunity to choose not to share the information. How to Remove your Name from Our Mailing, Sharing or Email List Our Site provides you the choice to receive communications from us at the point where we request information about you. Remove Our Site gives you the following options for removing your information from our database to not receive future communications, or to no longer receive our service, or to not share your name and address with other companies.
1. You may send an email to info@epickayaks.com
2. You may send mail to the following address: Epic Kayaks, 2000 Jonesborough Road, Erwin TN 37650 How to Correct your Name on Our Mailing, Sharing or Email List This Site gives you the following options for changing and modifying information previously provided. 1. You may send an email to info@epickayaks.com
2. Send mail to the following address: Epic Kayaks, 2000 Jonesborough Road, Erwin TN 37650 Protection of Personal Information We want you to feel confident about using Epickayaks.com to make purchases, and we are committed to protecting the personal information we collect. While no Web site can guarantee security, we have implemented appropriate physical, electronic and managerial security procedures to help protect the personal information that you provide to us. Children's Privacy Epickayaks.com does not sell merchandise for purchase by children. If you are under 18, you may use our website only with the involvement of a parent or guardian. Should a child whom we know to be under 13 send personal information to us, we will use that information only to respond directly to that child to inform him or her that we must have parental consent before receiving his or her personal information. External Links If any part of the Epickayaks.com Web site links you to other Web sites, those Web sites do not operate under this privacy policy. We recommend that you examine the privacy statements posted on those other Web sites to understand their procedures for collecting, using, and disclosing personal information. Changes to this Privacy Policy Epickayaks.com may update this privacy policy in the future. We will notify you about material changes to this privacy policy by sending a notice to the e-mail address you provided to us or by placing a prominent notice on our Web site. How to contact Us If you have any questions or concerns about the privacy or security of your information or if you wish to receive a copy of the information we hold about you, you may contact us in any of the following ways 1. You may send an email to info@epickayaks.com
2. You may send mail to the following address: Epic Kayaks, 2000 Jonesborough Road, Erwin TN 37650 EFFECTIVE DATE: January 1, 2013
Terms of Use Agreement Welcome to Epickayaks.com and Epic Kayaks mobile services (the "Epic Kayaks Electronic Platforms"). The Epic Kayaks Electronic Platforms are hosted by Epic Kayaks and its parent, subsidiaries and affiliates (collectively, "Epic Kayaks," "we," or "us"). By using the Epic Kayaks Electronic Platforms, you agree to be legally bound by all the terms and conditions contained in this Terms of Use Agreement ("Agreement"). Please read these terms carefully. By using the Epic Kayaks Electronic Platforms, you also represent that you are at least 18 years old, or you are at least the minimum legal age to enter into a contract in the jurisdiction in which you are using the Epic Kayaks Electronic Platforms. In addition, when you use any current or future version of the Epic Kayaks Electronic Platforms, you also will be subject to the terms and conditions of this Agreement. Please print a copy of this Agreement for your records. We may, from time to time, modify the terms of this Agreement. When we make changes, we will post those changes here. Your use of the Epic Kayaks Electronic Platforms following any such modification constitutes your agreement to the terms of the modified Agreement. The date of the most recent update is listed at the end of this Agreement. Privacy Please review our privacy policy, which also governs your use of the Epic Kayaks Electronic Platforms, to understand our privacy practices. The terms and conditions of our privacy policy, which are set forth above, are incorporated herein and made a part of this Agreement. Orders Epic Kayaks does sell products for children, but it does not sell products to children. Epic Kayaks only sells products to adults, ages 18 years and older, who can purchase them with a credit card. Epic Kayaks reserves the right to refuse service, terminate accounts, remove or edit content, or cancel orders in its sole discretion, including, without limitation, if Epic Kayaks believes that user conduct violates applicable law or is harmful to the interests of Epic Kayaks or its affiliates. Trademarks All rights in the product names, company names, trade names, graphics, logos, page headers, button icons, scripts, product packaging, trade dress and designs of all Epic Kayaks or third-party products or services, whether or not appearing in large print or with the trademark symbol, belong exclusively to Epic Kayaks or their respective owners and are protected from reproduction, imitation, dilution, or confusing or misleading uses under national and international trademark and copyright laws. The use or misuse of these trademarks or any materials, except as permitted herein, is expressly prohibited, and nothing stated or implied on the Epic Kayaks Electronic Platforms confers on you any license or right under any patent or trademark of Epic Kayaks or any third party. Patents Epic Kayaks's patents include the following: Epic Bailer (Patent Pending), All product design patents.
Copyright All copyright rights in the text, images, photographs, graphics, user interface, and other content provided on the Epic Kayaks Electronic Platforms, and the selection, coordination, and arrangement of such content, are owned by Epic Kayaks or its third-party licensors to the full extent provided under the United States Copyright Act and all international copyright laws. Under applicable copyright laws, you are prohibited from copying, reproducing, modifying, distributing, displaying, performing, or transmitting any of the contents of the Epic Kayaks Electronic Platforms for any purposes. Nothing stated or implied on the Epic Kayaks Electronic Platforms confers on you any license or right under any copyright of Epic Kayaks or any third party. The Epic Kayaks Electronic Platforms and the information contained in reference herein are for your personal, non-commercial use only. Except as otherwise specifically permitted herein, you shall not broadcast, duplicate, copy, reproduce, edit, manipulate, modify, publish, rent, sell, publicly display, perform, distribute, transmit, or circulate to anyone the contents of the Epic Kayaks Electronic Platforms, or use the contents of the Epic Kayaks Electronic Platforms in litigation, or for any commercial or promotional purposes, without the express written consent of Epic Kayaks or its lawful successors and assigns. For usage permission, Contact us. Notice of Copyright Infringement Epic Kayaks respects the intellectual property of others. When we become aware of allegations of copyright infringement in material distributed through the Epic Kayaks Electronic Platforms, we will investigate the allegations and take appropriate action. This can include, in the case of individuals who repeatedly infringe the copyrights of others, termination of access privileges. If you believe that your work has been copied and is accessible on the Epic Kayaks Electronic Platforms in a way that constitutes copyright infringement, please provide Epic Kayaks's Copyright Agent with the following information: Identification of the copyrighted work claimed to have been infringed; Identification of the allegedly infringing material on the Epic Kayaks Electronic Platforms that is requested to be removed; Your name, address, and daytime telephone number, and an email address if available, so that Epic Kayaks may contact you if necessary; A statement that you have a good faith belief that the use of the copyrighted work is not authorized by the copyright owner, its agent, or the law; A statement that the information in the notification is accurate and, under penalty of perjury, that the signatory is authorized to act on behalf of the owner of an exclusive copyright right that is allegedly infringed, and An electronic or physical signature of the copyright owner or someone authorized on the owner's behalf to assert infringement of copyright and to submit the statement. Epic Kayaks's Copyright Agent for notice of claims of copyright infringement on the Epic Kayaks Electronic Platforms is Epic Kayaks's General Counsel, who can be reached as follows:
Epic Kayaks Attn.: General Manager email: info@Epickayaks.com
License and Site Access Epic Kayaks grants you a limited license to access and make personal use of the Epic Kayaks Electronic Platforms and not to download (other than page caching) or modify it, or any portion of them, except with express written consent of Epic Kayaks. This license does not include any resale or commercial use of the Epic Kayaks Electronic Platforms or their contents; any collection and use of any product listings, descriptions, or prices; any derivative use of the Epic Kayaks Electronic Platforms or their contents; any downloading or copying of account information for the benefit of another merchant; or any use of data mining, robots, spiders or similar data gathering and extraction tools. Neither the Epic Kayaks Electronic Platforms nor any portion thereof may be reproduced, duplicated, copied, sold, resold, visited, or otherwise exploited for any commercial purpose without express written consent of Epic Kayaks. You may not frame or use framing techniques to enclose any trademark, logo, or other proprietary information (including images, text, page layout, or form) of Epic Kayaks and our affiliates without express written consent. You may not use meta tags or any other hidden text using Epic Kayaks's name or trademarks without the express written consent of Epic Kayaks. Any unauthorized use terminates the permission or license granted by Epic Kayaks. You are granted a limited, revocable, and nonexclusive right to create a hyperlink to any page of Epic Kayaks so long as the link does not portray Epic Kayaks or its products or services in a false, misleading, derogatory, or otherwise offensive manner. You may not use any Epic Kayaks logo or other proprietary graphic or trademark as part of the link without express written permission. Third Party and Co-Branded Web Sites The Epic Kayaks Electronic Platforms may contain hyperlinks ("links") to Web Sites operated by persons or entities other than Epic Kayaks ("third-party Web Sites") or to co-branded Web Sites operated by a third party, including affiliates ("co-branded Web Sites"). We provide such links for your reference and convenience only. A link from Epic Kayaks to a third-party Web Site does not imply or mean that we endorse the content on that third-party or co-branded Web Site or the operator or operations of that Web Site. You are solely responsible for determining the extent to which you use any content at any third party or co-branded Web Sites to which you might link from the Epic Kayaks Electronic Platforms. Epic Kayaks IS NOT RESPONSIBLE OR LIABLE FOR ANY LOSS OR DAMAGES INCURRED AS A RESULT OF ANY DEALINGS WITH ANY THIRD-PARTY WEB SITE OR CO-BRANDED WEB SITE, ANY MERCHANT OR OPERATOR OF A THIRD-PARTY WEB SITE OR CO-BRANDED WEB SITE, OR ANY OTHER PERSON WITH WHOM YOU ENGAGE IN ANY TRANSACTION. Your Responsibilities You agree to comply with all applicable law in connection with your use of the Epic Kayaks Electronic Platforms, and such further limitations as may be set forth in any written or on-screen notice from Epic Kayaks. As a condition of your use of the Epic Kayaks Electronic Platforms, you warrant that you will not use the Epic Kayaks Electronic Platforms for any purpose that is unlawful or prohibited by this Agreement. All information that you provide in connection with a purchase or transaction or other monetary transaction interaction with the Epic Kayaks Electronic Platforms or any co-branded Web Site will be accurate, complete, and current. You will pay all charges incurred by users of your credit card, debit card, or other payment method used in connection with a purchase or transaction or other monetary transaction interaction with Epic Kayaks or any co-branded Web Site at the prices in effect when such charges are incurred. You will pay any applicable taxes, if any, relating to any such purchases, transactions or other monetary transaction interactions. By using the Epic Kayaks Electronic Platforms, you agree not to violate or attempt to violate the security of the Epic Kayaks Electronic Platforms, including, without limitation, actions such as: Accessing data not intended for you or logging into a server or account that you are not authorized to access; Attempting to probe, scan, or test the vulnerability of a system or network or to breach security or authentication measures without proper authorization; Attempting to interfere with service to any user, host, or network, including, without limitation, by way of submitting a virus to or overloading, "flooding," "spamming," "mailbombing," or "crashing" the Epic Kayaks Electronic Platforms; Sending unsolicited email, including promotions and/or advertising of products or services, and Forging any TCP/IP packet header or any part of the header information in any email or posting. Risk of Loss All products purchased from the Epic Kayaks Electronic Platforms are transported and delivered to you by an independent carrier not affiliated with, or controlled by, Epic Kayaks. Title to products purchased on the Epic Kayaks Electronic Platforms, as well as the risk of loss for such products, passes to you when Epic Kayaks delivers these items to the carrier. Product Information Epic Kayaks attempts to be as accurate as possible in describing its products. We do not warrant that product descriptions or other content of the Epic Kayaks Electronic Platforms are accurate, complete, reliable, current, or error-free. Most Epic Kayaks products displayed on the Epic Kayaks Electronic Platforms are available in select retail stores in the United States and select foreign markets while supplies last. In some cases, merchandise displayed for sale via the Epic Kayaks Electronic Platforms may not be available in retail stores. Unless otherwise stated, the prices displayed at the Epic Kayaks Electronic Platforms are quoted in U.S. Dollars. Colours We have made every effort to display as accurately as possible the colors of our products that appear on the Epic Kayaks Electronic Platforms. As the actual colors you see depend on your computer monitor or mobile device, however, we cannot guarantee that your monitor's or device's display of any color will be accurate. The Epic Kayaks Warranty Please visit our Warranty page for more details. DISCLAIMER OF WARRANTIES AND LIMITATIONS ON LIABILITY THE Epic Kayaks ELECTRONIC PLATFORMS ARE PROVIDED BY Epic Kayaks ON AN "AS IS" AND "AS AVAILABLE" BASIS. TO THE MAXIMUM EXTENT PERMITTED BY LAW, Epic Kayaks MAKES NO REPRESENTATIONS AND WARRANTIES OF ANY KIND, EXPRESS OR IMPLIED, AS TO THE OPERATION OF THE Epic Kayaks ELECTRONIC PLATFORMS OR THE INFORMATION, CONTENT, THIRD-PARTY CONTENT, MATERIALS, PRODUCTS, SERVICES OR LINKED SERVICES PROVIDED ON OR THROUGH THE Epic Kayaks ELECTRONIC PLATFORMS, INCLUDING WITHOUT LIMITATION, THAT THE INFORMATION PROVIDED THROUGH THE Epic Kayaks ELECTRONIC PLATFORMS WILL BE FREE FROM ERROR, OMISSION, INTERRUPTION, DEFECT, OR DELAY IN OPERATION, OR FROM TECHNICAL INACCURACIES OR TYPOGRAPHICAL ERRORS; THAT THE Epic Kayaks ELECTRONIC PLATFORMS WILL BE AVAILABLE AT ANY PARTICULAR TIME OR LOCATION; THAT DEFECTS OR ERRORS IN THE Epic Kayaks ELECTRONIC PLATFORMS WILL BE CORRECTED; OR THAT THE CONTENT ON THE Epic Kayaks ELECTRONIC PLATFORMS IS FREE OF VIRUSES OR OTHER HARMFUL COMPONENTS. ANY INFORMATION ON THE Epic Kayaks ELECTRONIC PLATFORMS IS SUBJECT TO CHANGE WITHOUT NOTICE, AND WE DISCLAIM ALL RESPONSIBILITY FOR THESE CHANGES. YOU EXPRESSLY AGREE THAT YOUR USE OF THE Epic Kayaks ELECTRONIC PLATFORMS IS AT YOUR SOLE RISK.
TO THE MAXIMUM EXTENT PERMITTED BY LAW, Epic Kayaks DISCLAIMS ALL WARRANTIES, EXPRESS OF IMPLIED, INCLUDING, BUT NOT LIMITED TO, IMPLIED WARRANTIES OF MERCHANTABILITY AND FITNESS FOR A PARTICULAR PURPOSE. IN NO EVENT WILL Epic Kayaks, OR ANY PARTY INVOLVED IN CREATING, PRODUCING, OR DELIVERING THE Epic Kayaks ELECTRONIC PLATFORMS, BE LIABLE FOR ANY DAMAGES OF ANY KIND ARISING FROM THE USE OF THE Epic Kayaks ELECTRONIC PLATFORMS, INCLUDING, BUT NOT LIMITED TO DIRECT, INDIRECT, INCIDENTIAL, EXEMPLARY, PUNITIVE, SPECIAL AND CONSEQUENTIAL DAMAGES OR ANY DAMAGES OF ANY TYPE OR NATURE ARISING OUT OF YOUR ACCESS, USE, MISUSE, OR INABILITY TO USE THE Epic Kayaks ELECTRONIC PLATFORMS OR ANY LINKED SITES OR SERVICES; IN THE EVENT A THIRD PARTY INTERCEPTS OR DECRYPTS ANY TRANSMISSION OF INFORMATION THAT YOU PROVIDE TO Epic Kayaks THROUGH THE Epic Kayaks ELECTRONIC PLATFORMS; OR IN CONNECTION WITH ANY FAILURE OF PERFORMANCE, ERROR, OMISSION, INTERRUPTION, DEFECT, DELAY IN OPERATION OR TRANSMISSION, COMPUTER VIRUS, OR LINE OR SYSTEM FAILURE, WHETHER IN AN ACTION UNDER CONTRACT, NEGLIGENCE, TORT, STRICT LIABILITY, OR ANY OTHER THEORY, EVEN IF WE HAVE BEEN PREVIOUSLY ADVISED OF THE POSSIBILITY OF SUCH DAMAGES. CERTAIN STATES OR JURISDICTIONS DO NOT ALLOW LIMITATIONS ON IMPLIED WARRANTIES OR THE EXCLUSION OR LIMITATION OF CERTAIN DAMAGES. IF THESE LAWS APPLY TO YOU, SOME OR ALL OF THE ABOVE DICLAIMERS, EXCLUSIONS, OR LIMITATIONS MAY NOT APPLY TO YOU, AND YOU MAY HAVE ADDITIONAL RIGHTS. Applicable Law and Disputes This Agreement, your rights and obligations, our rights and obligations, and all actions contemplated by this Agreement will be governed by the laws of the United States of America and the State of California, without regard to principles of conflicts of law and as if this Agreement were a contract wholly entered into and wholly performed within the State of California. This Agreement will not be governed by the United Nations Convention on Contracts for the International Sale of Goods. Any dispute relating in any way to your visit to Epic Kayaks or to products you purchase through Epic Kayaks shall be submitted to confidential arbitration in Ventura, California, United States of America, except that, to the extent you have in any manner violated or threatened to violate Epic Kayaks's intellectual property rights, Epic Kayaks may seek injunctive or other appropriate relief in any state or federal court in the State of California, United States of America, and you consent to exclusive jurisdiction and venue in such courts. Arbitration under this Agreement shall be conducted under the rules then prevailing of JAMS/ENDISPUTE Streamlined Arbitration Rules and Procedures in effect at the time of filing of the demand for arbitration. The parties specifically incorporate the terms of California Code of Civil Procedure section 1283.05 with respect to discovery. The arbitrator's award shall be binding and may be entered as a judgment in any court of competent jurisdiction. To the fullest extent permitted by applicable law, no arbitration under this Agreement shall be joined to an arbitration involving any other party subject to this Agreement, whether through class arbitration proceedings or otherwise. Indemnification You agree to defend, indemnify, and hold harmless Epic Kayaks and its affiliates, successors and assigns, and its and their directors, officers, employees, agents, co-branders or other partners from and against any and all allegations, claims, demands, actions, causes of action, proceedings (whether threatened or pending), orders, damages, losses, liabilities, costs and expenses, including reasonable attorney's fees and other legal expenses, and judgments of any kind of nature, incurred by Epic Kayaks arising out of or relating to your use of the Epic Kayaks Electronic Platforms, your violation of this Agreement, or your violation of any rights of another. Miscellaneous Legal Provisions We may discontinue the Epic Kayaks Electronic Platforms at any time and for any reason, without notice. We may change the contents, operation, or any and all other features of the Epic Kayaks Electronic Platforms at any time for any reason, without notice. We may discontinue or restrict your use of the Epic Kayaks Electronic Platforms at any time for any reason, without notice. You agree that no joint venture, partnership, employment, or agency relationship exists between you and Epic Kayaks as a result of this Agreement or your use of the Epic Kayaks Electronic Platforms. Nothing contained in this Agreement is in derogation of Epic Kayaks's right to comply with governmental, court, and law enforcement requests or requirements relating to your use of the Epic Kayaks Electronic Platforms or information provided to or gathered by Epic Kayaks with respect to such use. A printed version of this Agreement and of any notice given in electronic form shall be admissible in judicial or administrative proceedings based upon or relating to this Agreement to the same extent and subject to the same conditions as other business documents and records originally generated and maintained in printed form. The failure of Epic Kayaks to enforce any provisions of this Agreement or respond to a breach by you or other parties shall not in any way waive its right to enforce subsequently any terms or conditions of this Agreement or to act with respect to similar breaches. If any provision in this Agreement is invalid or unenforceable under applicable law, the remaining provisions will continue in full force and effect, and the invalid unenforceable provision will be deemed superseded by a valid, enforceable provision that most closely matches the intent of the original provision. This Agreement is the entire and final Agreement regarding the Epic Kayaks Electronic Platforms and their content, and supersedes any prior or contemporaneous communications between Epic Kayaks and you regarding the Epic Kayaks Electronic Platforms and their contents. All rights not expressly granted herein are hereby reserved. Considerations for Non-U.S. Customers Epic Kayaks's headquarters are located in the United States, and the Epic Kayaks Services are based in the United States. Please be aware that information you provide to us, or that we obtain as a result of your use of the Epic Kayaks Services, may be processed and transferred to the United States and be subject to United States law. The privacy and data protection laws in the United States may not be equivalent to such laws in your country of residence. By using the Epic Kayaks Services, or by providing us with your information, you consent to this collection, transfer, storage, and processing of information to and in the United States. EFFECTIVE DATE: June, 2012
---
---
Shipping and Return Info
What are the USA shipping terms and Return Policies?
---
SHIPPING: Most paddles and accessories will ship within one week of your order. Please allow 5-10 days after your order ships for delivery.
Shipping and handling charges, as well as any applicable sales tax, are calculated when you order your items, based upon your shipping address. You might be charged an extra shipping charge if your items selected do not mach the shipping option you selected.
Most of our products ship via USPS. Expedited items ship via FEDEX. For expedited shipping charges please contact: info@epickayaks.com A breakdown of USPS shipping costs is listed below.

USPS shipping rates: Small items and apparel, T-shirts, leg leash, rudders, weed defelctors, LL parts $9.95 1-2 Paddles or medium sized items $20.00
3-4 Paddles or medium sized items $30.00
5-10 Paddles or medium sized items or 1 KAYAK STAND $50.00 NOTE: Please select $50.00 shipping rate for 1 set of KAYAK STANDS. If more are needed please contact us.

*Shipping charges will be higher if shipping to Alaska, Hawaii, or Canada.
Mail Small for Alaska, Hawaii & Canada is $9.95
Mail Large for Alaska, Hawaii & Canada is $20.00

Not finding the information you need? E-mail us at info@epickayaks.com and we'll be happy to answer any questions you may have. RETURNS: No refunds will be given for clothing items returned. Unused Non clothing items returned will be subject to a 10% restocking fee. Amount refunded will not include shipping cost and will not include credit card fees payed by Epic Kayaks Inc. Refunds will only be issued after the returned item has been received, inspected and varified to be unused and un-damaged.
---
---